In continuation to the released of Samsung projector smartphone I7410 (W7900) back in February 2009 which utilizes the DLP Pico Chipset from Texas Instruments, the Korean electronic giant had done it again with the announcement of their latest mobile handheld projector – Samsung MBP200 Pico Projector.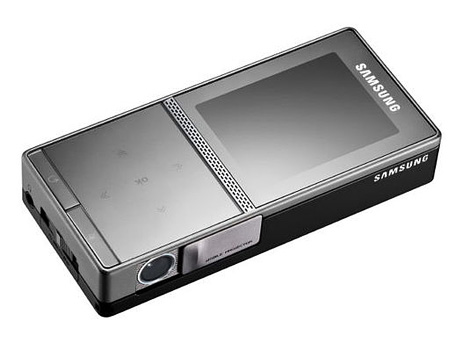 The MBP200 is a compact and lightweight projector cum media player. Weighing at only 160g, Samsung MBP200 is almost similar in size as the Pico Projector, which was earlier announced by Optoma back in June 2008. This portable projector is designed with easy connections directly to mobile phones and notebooks to cater for all your "on-the-go" presentations.
The Samsung MBP200 is capable of projecting images onto screen sizes ranging from 8.5×11 inch (standard sheet of paper) to as wide as 50-inch screen, depending on ambient lightings. The device also features a small screen holder, which can instantly turn an A4 size paper into a screen for viewing movies, document files or pictures. And with its 2.2-inch QVGA LCD screen, 3.5mm headphone jack and built-in speaker, the MBP200 can double-up as a portable media player.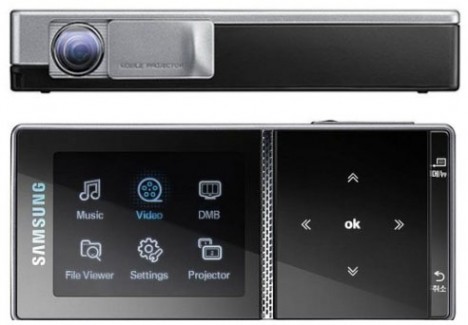 The device also supports common audio formats like MP3, WMA and OGG, and popular video codecs such as DivX and Xvid, apart from the standard Microsoft Office PowerPoint, Words, Excel and PDF format.
Product Features:
Projection Panel: HVGA (480 x 320)
LCD: 2.2" QVGA(320 x 240)
Storage: microSD slot (up to 16 GB)
Picture Viewer: JPEG, GIF, Animated GIF, MBP
Audio Playback: MP3, WMA, OGG, AAC, WAV
Video Playback: DivX, Xvid, WMV9 Simple Profile, MPEG-2, MPEG-4
File Viewer: Adobe PDF, MS PowerPoint, MS Word, MS Excel, Text
Dimension/Weight: 107.3 x 48.8 x 19 mm / 160 g