Want to be a Rock and Roll idol? Riff Rocker might help you to build up your rock talents. Riff Rocker is a cool USB guitar gadget. Once the Riff Rocker is plugged into a PC or Mac, you can start using the guitar to play your 'Rock' music and 'Roll' your body.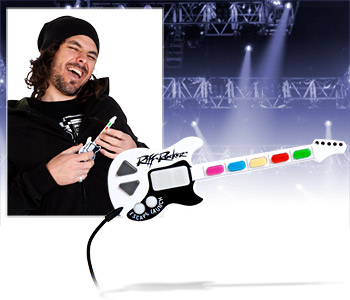 Riff Rocker is a miniature guitar with a measurement of 14cm x 5cm that can easily be stowed in your bag or even pocket. However, it is shaped like a modern electric guitar. Bring it along with your laptop, and you can show off your musical talents to your pals and play it whenever you're bored.
The mini guitar comes with free games that can be downloaded from the Riff Rocker website with your computer. The game is easy to play and fun. You need to follow the moving colors on the computer screen by pressing the colored buttons on the guitar's fret board. You will be booed or applauded by 'the crowd' accordingly based on your scores. There are three difficulty levels in the game – medium, hard and advanced. Try the advanced level and let 'the crowd' judge whether you're rock king or laughing stock.
The Riff Rocker is available from IWOOT at £19.99.