Radio aficionados who want to expand their listening beyond what's offered by their local radio stations will find a lot to like in the Rdio. Rdio announced today that it is offering the majority of its international customers the same deal that people get in the U.S. – six months of free music streaming.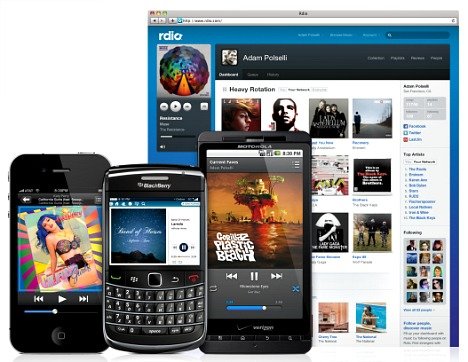 Rdio is an ad-free music subscription service available as a website and also has clients for the iPhone, iPod Touch & iPad, Android, BlackBerry, and Windows Phone mobile devices, which can play streaming music or cache songs for offline playback. But unlike other, which only offers free trials followed by paid tiers for web, or web plus mobile, access, Rdio will now use free web streaming as a lure to attract new users. The free access is available on both Rdio's web app and its desktop applications for Mac and Windows.
The free Rdio streaming features:
Allow users choose from over 18 million songs, without ads
Listen free on the web for up to six months, depending on how many songs users stream
See and hear what their favourite artists are listening to
Discover new music by following friends and tastemakers
Create, curate, and collaborate on playlists
Share their life soundtrack in real time on Facebook and Twitter
The countries that will have free access to Rdio are the United States (where it's been free since October 2011), United Kingdom, Australia, Belgium, Canada, Denmark, Estonia, Finland, France, Netherlands, New Zealand, Norway, Portugal, Spain, and Sweden, except for Germany and Brazil.
In addition, Rdio users able to upgrade any time to one of Rdio's subscription plans for unlimited streams and access to Rdio's acclaimed mobile apps.
Rdio music fans can sign up for free Rdio streaming right now at http://www.rdio.com/