Each type of music has its unique style and sounds created by a unique mix of instruments. The newly launched Custom Tuned Earphones by Radiopaq have a range of headphones that pair well with different music genres like Classical, Jazz, Pop and Rock. The new earphones will offer music fans an optimized and flawless sound based on particular music genre.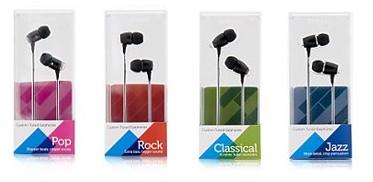 The different earphone ranges are designed to produce an intelligent audio system for users. Radiopaq's audiophiles have analyzed and engineered each component of earphones from its length, width, depth, case profile until the internal contours to produce the frequency range and dynamic sounds that perfectly match each genre.

Classical earphones produce 25% more detail in the mid to high end range than standard earphones, while the Jazz design has pronounced rhythm and detailed pace with a perfectly defined soundstage. Pop will give a more dynamic, sharp listening experience with strong vocals and a great bass beat, while Rock promises a solid bass with low distortion ratio and 30% more sound reproduction.
Standard features for Custom Tuned Earphones:
Tangle free cable for easy use and better storage
Bi-Directional noise isolation for clear sound system
Unique design and light weight metal construction for comfort wear and enhanced acoustics
Eleven part audiophile chamber construction for balanced reproduction
1.2 meter, 7 strand, 3 core, silicone coated high performance audio cable
Corrosion free gold plated 3.5mm audio jack plug
Three sizes (L/M/S) of in-ear silicone gel cushions for perfect comfort, fit and noise isolation
The new custom tuned earphones will be available at £59.