Process Lasso is an advanced system process optimization tools from Bitsum that based on a special algorithm to dynamically adjust the process to realize the function of reducing the burden on the system by setting reasonable process priority. Process Lasso can effectively avoid the computer blue screen, suspended animation, process stops responding, process takes too much CPU time, and other symptoms.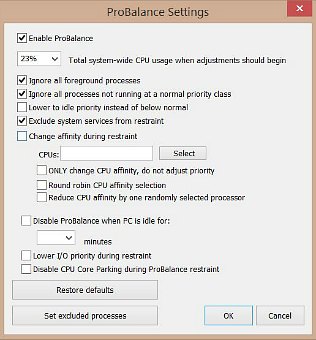 Process Lasso provides ProBalance (Process Balance) Technology and ProBalance algorithm features to restrain CPU hogs, helps computer retain responsiveness during CPU loads, and ensure the system speed and stability. In addition, Process Lasso will optimization system in background and real-time intelligence that suitable for home users and professional working environment.
Highlight features of Process Lasso 8:
ProBalance – Always keep PC responsive even during high CPU loads
Gaming Mode 2.0 with Bitsum Highest Performance power plan
IdleSaver – Run at maximum performance while active; conserve energy when idle
SmartTrim – The first-ever intelligent RAM manager
Real-time CPU affinity and process priority optimization
Limit per-process CPU use by default CPU affinities
Automate and control process settings and power plans
Anti-Sleep – Keep the PC and/or display awake when specified processes are running
Light-weight native code with negligible resource use
Efficient stand-alone core engine that can run as a service
Unique system responsiveness metric to quantify your experience
Event logging
Localized to Chinese (Traditional and Simplified), German, French, Polish, Finnish, Italian, Japanese, Russian, Serbian, PTBR, and more
Process Lasso normally offered as a feature-limited free version and a commercial pro version. The free version comes with some features of Process Lasso Pro are available for a short period of time (between three and fourteen days) after which they are not available anymore. Fortunately, Bitsum is now giving away free full version licenses for Process Lasso Pro v8.8.8.6 that normally cost $24.95 for purchase per activation code / license key. Interested users who intend to try Process Lasso Pro 8 just follow the instruction below:
Visit the promotional page here
Enter the name, email, and then click "Generate My Process Lasso PRO License" blue button.
Once done, the free activation license code will be sent to registered email address.
Note: This code will only be valid for the current version of Process Lasso. You can always download the current (or older) versions at the Support area.
Download Process Lasso Pro installation file:
Download Process Lasso Pro 32-bit v8: processlassosetup.exe
Download Process Lasso Pro 64-bit v8: processlassosetup64.exe
After completed download and install, fill in the license code received for activation and enjoy full version of Process Lasso Pro 8.
Process Lasso is compatible with Windows XP, Windows Vista, Windows 7, Windows 8, and Windows 10.