Have you ever experienced difficulty in finding the power supply for charging your devices when you're at an outdoor café enjoying your favorite cappuccino? Powerbella, a retractable alfresco umbrella could help you to charge your devices effortlessly by way of clean green solar technology while you're enjoying your coffee break outdoor.

Powerbella is a brilliant and sunny idea which combines the strengths of two companies; Konarka, the supplier of Power Plastic, a material that converts solar to energy, and SKYShades, one of the global leaders in making retractable and fixed architectural 'SKYbrellas'. Powerbrella incorporates the Power Plastic on the surface of its alfresco umbrella. The solar power absorbed by the Power Plastic is stored in the stem of the Powerbrella and connected to outlets that allow devices to be charged.
"This partnership is a natural fit for both companies," said Joe McKenna, executive vice president of SKYShades. "The increasing cost of energy and the recognition for the need to combat global warming has companies across the globe trying to figure out how to create cost-effective products that can generate energy savings and reduce carbon emissions while also meeting the needs of consumers."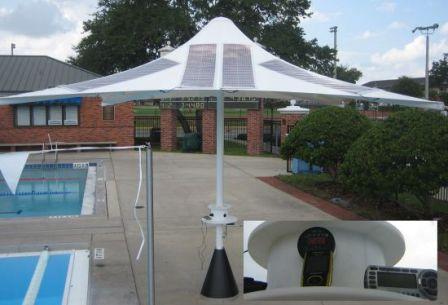 The effectiveness of Powerbrella has been tested and proven throughout 2008 at Lake Highland Preparatory School in Orlando. The unique capability of Powerbella that provide shade and at the same time the ability to re-charge laptops, music players, mobile phones and other appliances by solar has captured the substantial interests of national chains of coffee outlets, hotels and resorts, as claimed by SKYShades. This is not a surprise as 'Green' awareness has increased nowadays.
The Powerbella is expected to be available from the third quarter of 2009.