Follow on the recent release of Sharp WillCom's MID (Mobile Internet Device) based on Intel Atom processor, there are more and more PC manufacturers have engaged with Intel to get their first hand on the newly released ultra low power processor for their new product lines. Similarly, Portwell, a famous Taiwanese PC manufacturer has just developed and demonstrated a brand new UMPC (Ultra Mobile PC) prototype based on the famous Intel Atom processor. Named as UMPC-2710, it is designed to be small form factor, ultra low form factor and targeted for high end mobile market.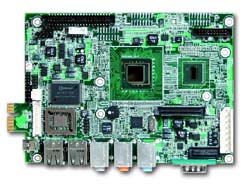 The UMPC is compliant to ECX form factor which measured only 166mm X 120mm X 38mm. It is designed to be fan-less with an ultra low TDP (Thermal Design Power) Intel Atom Z510 running at 1GHz clock speed. Being backed up by 1GB DDR2 memory, the mobile gadget is quite powerful to run in Linux or even in Windows based OS like XP or Vista. Besides, it has integrated 2.5-inch hard disk or SSD (Sold States Device) for program installation and external storage. Also, embedded wireless modules such as WiFi, Bluetooth and GPS (Global Positioning System) are some of the expected features to be enabled in the design.
No pricing has been disclosed yet. It is believed that the mass production will be ready by end of 2008.