How many times you forget to switch off your car light that put your in trouble when you want to ignite the engine again? Most of the latest vehicles may have preinstalled alarm system that triggers the driver when the car was left with front lamp switched on. However, majority of vehicles on the road are still vulnerable to this kind of unfortunate situation. You may able to resolve this by having jumper cable and jump start it using another vehicle's battery. Alternatively, this is the innovative product targeted for ladies or those that still find the jumper cable inconvenience to be used.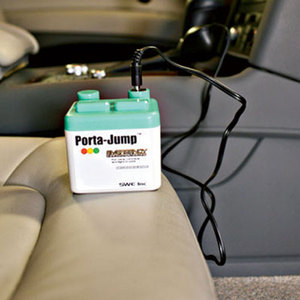 Named as Porta-Jump, it is a little kit that able to recharge the car battery through the 12-V cigarette lighter socket, saving your time to look for second car or jumper cable anywhere anytime. The next generation starter kit is light weight and small, only measured around 3-inch X 3-inch X 2.5-inch. It is not more than an electricity storage device that able to transfer its charge to another car battery which is in lower capacity state for emergency use. Good thing is, it is reusable and can be recharged while the car is running on the road, making it a compulsory device in your car compartment. Just imagine, you don't even have to make your hand dirty since the charging/discharging can be accomplished through the 12-V cigarette lighter socket in your car.
Surprisingly, the little kit costs only $19.99 and is already available in commercial market. With only a little extra money spent, you will have the peace of mind and at the same time, able to offer helping hands to those that need it while traveling on the road.