If you're a fitness center lover, you can monitor your speed, distance, calories burnt and timer from gym equipment such as treadmills and exercise bikes easily and effortlessly. However, if you're an avid swimmer, a normal timer would help you to calculate your speed only but provide no other info like distance and calories. Now, there is a watch called Pool-Mate which will provide laps, time, speed, distance and calorie info to users. It's really an ideal mate for swimmers.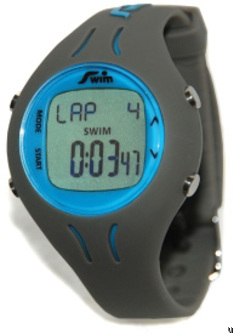 The Pool-Mate is a comprehensive watch from Swimovate that will automatically calculate your lap count, average strokes per lap, speed, distance, calories and efficiency. It is simple and easy to use. All you need to do is just press the start button and start swimming; the watch will do the computation. Lisa Irlam, Swimovate's CEO says "Athletes are now used to Speed and Distance computers for other sports such as running and cycling – what about swimming? We wanted an affordable, smart and fully automatic solution – hence the Pool-Mate."
The watch comes with a MEMS accelerometer that enables Pool-Mate to detect the motion of your wrist whenever you make a stroke during swimming. Then, the "advanced digital signal processing techniques and software algorithms" will count the total number of strokes as well as laps. You can record your swim data for each individual session as well as total session and your rest time. From the statistics, you can analyze your stroke through your swim to improve it. All data can be accessed immediately after your swim.
In addition, Pool-Mate works fine with a variety of swimming styles including Front Crawl, Back Crawl, Breaststroke and Butterfly but the pool's length must be over 10 meters. It also comes with other features like 50M water resistance, 12/24 hour time format, alarm, backlight and battery level indicator.
Get a Pool-Mate to help with your swimming training. You can leave the lap counting to your good mate and you just concentrate on your swimming. The Pool-Mate is available in two colours – grey/blue and black/blue at £69.99 in late July.