The night sky is full of mystery and wonder. The stars in the night sky will change location every night. If you would like to know more about the secrets of the night sky, Pocket Universe could be the expert to accompany and guide you the whole night long. Pocket Universe is an iPhone app that is friendly to novice star gazers.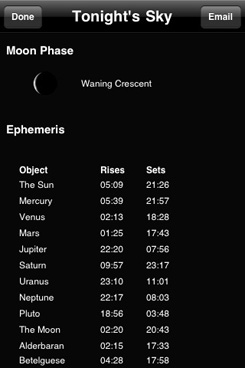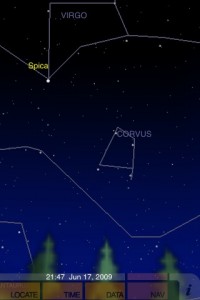 Pocket Universe is basically a map that shows the star constellations, planets and Messier objects. If you're using an iPhone 3GS, the app will show you a virtual sky via the iPhone 3GS compass. Just move up or down, left or right, and the app will display a sky map that matches what you see. It enables you to identify any objects in the night sky quickly and easily. There is also a brief explanatory text to inform you of what you're seeing.
Other features and functions of the app include:
Plotting the position of Sun, Moon and Planets
Drawing the Constellations outlines
Displaying up to 10,000 stars
Displaying lunar phases for the current month
Tonight's Sky report – gives you a good sense of what stars and when you'll be able to see them on a particular night
Constellation Quiz to test your knowledge of the night sky
Night vision mode replaces bright whites in the interface with deep reds, so you won't suffer that blinding retina burn-out sensation when you look from screen to sky
Astronomy news gives users access to related news and information available from various web sites
This useful and educational app, Pocket Universe is available at about $3.00. Get one for your iPhone, and you'll soon be an expert skywatcher.