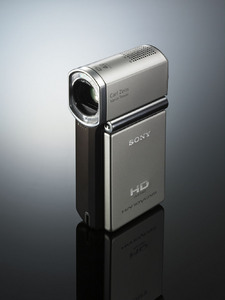 Japanese electronics giant, Sony, is proud to unveil its newest video camera which claimed to be the world's smallest, lightest, slimmest full high-definition camcorder, HDR-TG1. Size does not matter to this pocket-sized camcorder as it features 1,920 x 1,080 pixel full HD recording with crisp 5.1ch surround sound. The HDR-TG1 weighs around 300grams (10.6 ounces) and measures 32 mm x 119 mm x 63 mm (1.3 inches x 4.7 inches x 2.5 inches). It has a stylish and elegant look which will definitely pique your interest and admiration. The ultra-compact size allows you to keep it in your pocket and bring it around to suit your lifestyle.

Sony HDR-TG1 is the world's first camcorder using pure titanium as its body. This material is 40% lighter than steel but 2 times stronger than aluminum. There is a premium hard coating on the body which can protect the tiny object against scratches. The HDR-TG1 comes with a 4GB and an optional 16GB memory stick Pro Duo media. The 16MB memory stick can make recordings of up to 5 hours 55 min of full HD movies. Even though it is small, Sony HDR-TG1 is featured with a lot of intelligent functions such as BIONZ image processing engine, photo- taking while video recording, etc.
The tiny Sony HDR-TG1 will go on sale in Japan starting 20 April. It is tagged at 130,000 yen ($1,271).