SimCity Classic, or originally simply released as SimCity before the success and popularity of the computer and gaming console video game spawned an entire series of Sim games, is a city-building simulation game which is released on 1989. It's quite nostalgic thinking back the old days when spending hours everyday sat in front of PC or gaming computer of the day such as Amiga and Atari to play SimCity.

SimCity Classic probably won't work and won't run in modern PC anymore. Even if you still has the installation diskettes, the computer running latest visually enhanced operating system of Windows Vista probably don't even come with a floppy disk drive.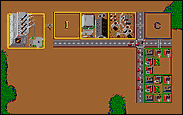 Electronic Arts ports the SimCity Classic desktop game to online for everybody's free playing. If you want to replace the classic edition of SimCity, which starts the Sim phenomenon, with all the basis gameplay functionality but without the extra stuffs added in later versions of SimCity such as SimCity 2000, SimCity 3000, SimCity 4 and The Sims, the online version, called as SimCity Classic Live by EA, is a free yet fun alternative.
Play SimCity Classic Live at http://simcity.ea.com/play/simcity_classic.php. If you're too 'advanced' to understand such a 'backwardly simple' game, there is Quick Start Guide and Detailed Instructions available too. Registration with Maxis required.