Giveawayoftheday.comm is giving away Plato 3GP Package, which includes Plato DVD to 3GP Converter and Plato Video to 3GP Converter. 3GP format is the video media format that is been used on 3G cellphone or mobile phone. With the Plato converters, users can easily convert any kinds of DVD movies and any videos such as AVI, DivX, RM, MPEG, WMV, ASF, MOV, MP4, FLV, SWF, NSV to 3GP to 3GP formats.

Plato DVD to 3GP Converter can easily convert DVD movies to 3GP/3G2 format that supported on cell phone or handphone. It supports any DVD movies even with copyright protected, can automatically jump fast the movie menus and extras to main movie, and allows selectable DVD title, audio track, subtitle and set recording begining point.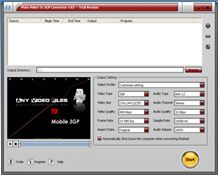 Plato DVD to 3GP Converter automatically converts almost all formats of video files such as DivX, XviD, AVI, WMV, MPG, MPEG, ASF, MOV, SCVD, VOB, VCD, QuickTime (QT) MOV, FLV, SWF, NSV, and RM stream formats into 3GP/3G2 video format. It has faster conversion speed which is more than 2 times of the playback speed, and also support batch conversion and predefined profile setting for 3GP video.
Both Plato DVD to 3GP Converter and Plato DVD to 3GP Converter is selling as a package for $43.88, and now it's available for free today (April 21, 2008), when user must download and install the free version of Plato converters.
Download the free Plato 3GP Converter Package.
After installing, register the software using the following registration name and license codes, which is valid forever:
Plato DVD to 3GP Converter
Registration name: Giveawayoftheday
License code: 357BF49912CDE4B017591A349153F92C1DCFEFBC95971CDE
Plato Video to 3GP Converter
Registration name: Giveawayoftheday
License code: 10AD66E08D5460EA5392F7485DCEE40D340F75EB332F05D1