Why put photo in existing normal unsurprising condition and bother to buy a photo editor if you can get things done through online without any cost? PicMonkey is completely free online photo editor that can help you to do most of the basic photo editing tasks, without any cost nor required to be downloaded and installed.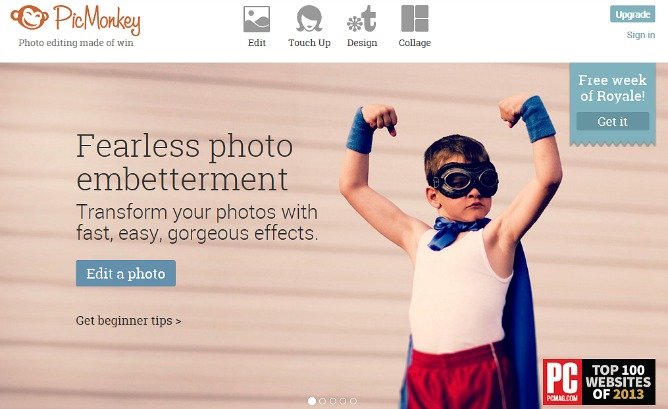 PicMonkey is designed for both amateur and non-professional users. Bloggers, social networks enthusiasts, home users, etc can use this simple and easy-to-use tool to edit their photos before posting or uploading an entry. There's no registration at all to try out PicMonkey, just start loading from Computer, Dropbox, Facebook, or Flickr to produce high-quality edited photos right in web browser without needing a high-end PC or laptop.
On the left screen, there have editing tools include correcting exposure, adding sharpening or rotating. It also has Auto adjust button to boosts contrast and saturation photo. Besides that, PicMonkey also provide effect editing tool such as HDR, Orton,  Cross process, Dusk, Vignettes, Lomo, and Cinerama. In addition to add more features, it also provides touch up, text, overlays, frames, themes, and textures.
A crown icon on a tool means the effect is reserved for PicMonkey's "Royale" users. This premium version costs $4.99 a month, or the annual plan at $33 a year to removes PicMonkey's adverts.
It's free so try it now at http://www.picmonkey.com/. PicMonkey works with most social media sites such as Facebook, Twitter, Pinterest, Flickr, and Tumblr. You can export photo by click "Share" at the top of the screen and link to connect your account, as well the option to email photo complete with a caption or comment. You also can click "Save" at the top of the screen to save photo to PC.