PicLens by cooliris is a plug-in or add-on for web browsers that instantly transforms your browser into a full-screen, 3D experience for viewing images on the web. All images found on the web pages will be shown in a cinematic 3D slide show presentation style which is scrollable. Now PicLens finally supports Firefox 3.0 Beta 5, and on top of that adds support for YouTube video.

Firefox 3.0 breaks a lot of addons and plugins due to incompatibility with the tighten security control. All not compliant add-ons will be disabled automatically.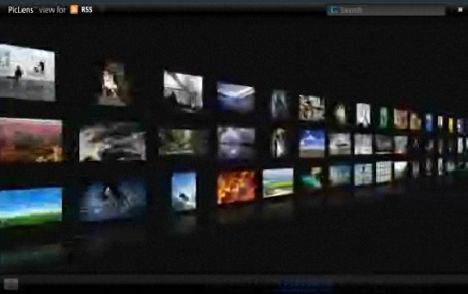 PicLens Beta version 1.6.3.2292 adds support for displaying of YouTube video on the 3D wall, and features improved user interface, added volume control, added support for older PowerPC CPUs, and fixed various bugs in this build since the last major build on April 4, 2008 (1.6.3.2120).
PicLens Beta for Firefox 2.0.0.13 (Windows and Mac), PicLens Beta for Firefox 3.0b5 (Windows and Mac) and Internet Explorer can be downloaded from beta page.
Note that PicLens Beta currently only supports Firefox 3.0b5, and can only support the one installed version for Firefox 2 or Firefox 3, if both co-exist at the same time. To return to using PicLens on your other Firefox browser, reinstall PicLens on that browser.