Photomizer Retro 2 is an image optimizer software for Windows that can easily and quickly convert digital image to a retro style images. Photomizer Retro 2 comes with easy to use interface and retro effects, frames, grains and etc which allow users reproduce the peculiarities of many historic cameras and film material. Photomizer is the fully automatic photo studio for the trouser pocket. With Photomizer, users can add frames, rotate, and add other effects to the pictures. Besides that, the program also provides processing option includes negative, repair, optimize, rotate, effects, distortion, and frames. Users can select which effects will be used and adjust their parameters to begin edit the pictures.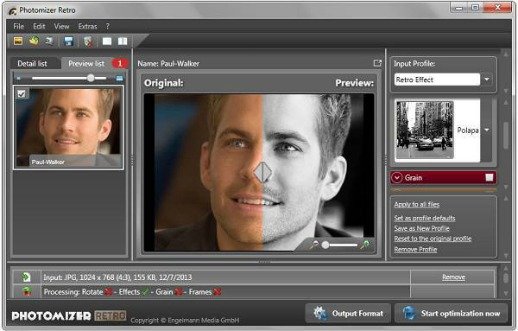 Features of Photomizer Retro 2:
Adding of noise/grain
Add retro style in professional way
Powerful Full screen edit panel
Batch conversion
Display EXIF- and GEO-data from digital photos
One-click photo optimization
Advance statistics with anytime revert option
Fully automatic batch mode
Low, High Transparency control
Built-in Styles, Frames, Effects, Grains
Rotation
Supported output formats
Statistics function
Non-destructive image editing tool
Manual optimization
Side-by-side edit panel with real-time preview
Webcam integration support
Photomizer Retro 2 normally cost € 29.99 for purchase. The developer of Photomizer Retro 2 is now offering free Photomizer Retro 2 full version with genuine license code. This is limited time giveaway, so hurry up!
How to grab free full version of Photomizer Retro 2:
Download Photomizer Retro 2 setup installer: tag07retro.zip
Install and run the program. On the activation wizard, fill in your full name and email address, and then click "Request Serial Number".
An email will be sent to registered email address containing the link to confirmation page and license serial code.
Once grab the license serial code, follow onscreen instructions to enter the license serial code that received.
Photomizer Retro 2 supports Windows 2000, XP, Vista, Windows 7, and Windows 8.