PhotoDirector 7 Deluxe is an all-in-one photo editing and photo management software from CyberLink, providing powerful and creative high-quality photo processing tools for edit photos, enhance, object removal, and touch up photos. PhotoDirector 7 Deluxe special designed for Windows OS as an alternative to some of the more expensive and complex software such as Adobe's Photoshop.
In short, PhotoDirector 7 Deluxe has many of the requisite features that user need for enhance photos. PhotoDirector 7 Deluxe comes with a huge range of high-end edit tools including correct lens distortions, create HDR images, add visual effects, applying watermarks, remove unwanted objects in photos, adjusting the color tone, create a slideshow in Ultra HD 4K quality, and much more.
PhotoDirector 7 Deluxe available in separate sections – "Library" for import, view, rate, tag and organise photos, "Adjustment" provides manual and fully automatic tweaks for colour, white balance, tone, sharpness and more, "Edit" section for edit photo with software tools, "Layers" section supports up to 100 layers per photo for manipulate photo with various tools and 14 blending modes.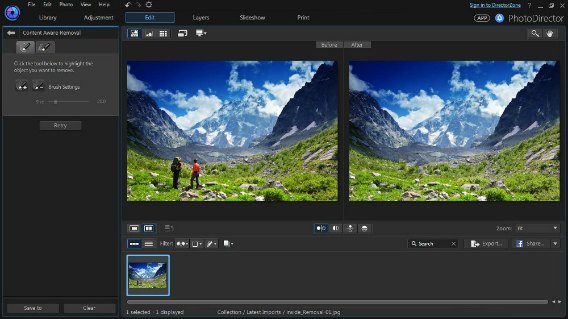 Features of PhotoDirector 7 Deluxe:
Removing embarrassing objects
Intelligent content removal – automatically remove extra objects and intelligently filling the background.
Perfect for edit group portraits and photos – retouch the facial features and Face Swap feature.
Predefined effects with one click: choose from the many predefined settings to apply with one click to personalize photo. User able to create an HDR effect, switch to black and white, etc., with just one click.
Managing collections of photos with simple search and segregation.
Easy sharing of files to different social networks.
Create high-quality slideshows.
PhotoDirector 7 Deluxe usually costs $59.99 for single license purchase. As part of promotional offer, CyberLink is giving away free copy of PhotoDirector 7 Deluxe without any costs.
To grab the free copy of PhotoDirector 7 Deluxe, just follow the steps below:
Head to promo page HERE.
Fill in necessary information such as Name and Email address.
Once complete, click the "submit" button to receive the free copy of PhotoDirector 7 Deluxe.
PhotoDirector 7 Deluxe compatible with Microsoft Windows 10, Windows 8, Windows 8.1, Windows 7.
You can share or follow us on Twitter, add us to your circle on Google+ or like our Facebook page to keep yourself updated on all the latest info from Microsoft, Google, Apple and the Web.