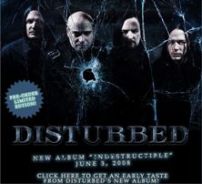 Rock music lover good news. Disturbed, a rock band from Chicago, Illinois which makes up of musicians Dan Donegan, Steve "Fuzz" Kmak, Mike Wengren and singer David Draiman is giving away their 'future' yet-to-be-released song – "Perfect Insanity", from Indestructible album schedule to be released in June 2008. The genre of the song is probably hard rock to heavy metal, or alternative metal.

The first official single from Disturbed is "Inside the Fire", so "Perfect Insanity" is just a track from the album that has a early release to promote the album. This gives fans of Disturbed rock band an early taste to the upcoming album.
The full song of Perfect Insanity in MP3 format can be downloaded at www.disturbed1.com. You have to fill in your email address, age, zip code and gender on the online form. You can skip that by downloading Perfectinsanity3.mp3 with this direct download link.