Other than Desktop Maestro 2, PC Tools is also giving away full version license for Registry Mechanic version 6.0, a version older than the latest Registry Mechanic 7.0, as part of promotion with few computer magazine publishers, including Computeractive and PC User Australia. With the free license code, users will run Registry Mechanic v6.0 for unlimited times for forever without time limit without the need of crack.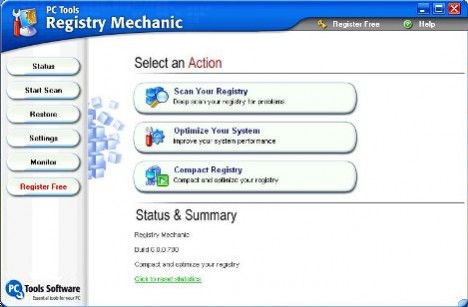 Registry Mechanic is a registry cleaner system optimization tool for Windows that safely scan, clean, repair registry problems, and optimize system registry with a few mouse clicks. As time goes by, computers run slower and slower, partly due to bloated registry. And problems with the Windows registry are a common cause of Windows crashes and error messages. Registry Mechanic scan and detect all invalid and erroneous registry entries so that users can fix them to tune up PC, make system more stable, run software quicker and cold boot operating system faster.
Registry Mechanic also features a backup tool just in case wrong registries been deleted, Registry Pruning facility to streamline registry, and new Monitor device which enables users to view changes made to registry since last used Registry Mechanic.
Registry Mechanic 6.0 is as powerful as Registry Mechanic 7.0 and supports Windows Vista 32-bit, 98, Me, 2000 and XP. To get the full version free license for Registry Mechanic 6.0, go to one of the following URLs, and enter your name and e-mail address, then click "Request Free License" button.
http://www.pctools.com/registry-mechanic/free/promo/PCUAUS0208/
http://www.pctools.com/registry-mechanic/free/promo/VNUCA1107/
The free license name with registration license code will be sent to your Inbox, which can be used to register the Registry Mechanic as full version working product instead of trial version, and includes 12 months technical support.
However, Registry Mechanic 6 installer setup file no longer provided to download by PCTools, and requires users to install the software from the magazine cover disc. As suuch, download the free version of RM6 setup installer hosted by Computeractive rm6_computeractive.exe (alternative download link).