Accidental deletion or lost of important files is getting very common with increasing reliance on digital data storage. Windows provides first line of defense in the form of Recycle Bin. However, if the missing files is not found or recoverable from Recycle Bin, user will have to depend third-party software utilities that able to comb physical hard disk surface to look for any trace of deleted or erased files to recover it. One such tool is O&O UnErase (O&O UnErase 2 genuine license is free). If you feel that copy of software is old, here's another files recovery utility, aptly named File Recover by PC Tools, which is always available for free unlimited use with registration trick.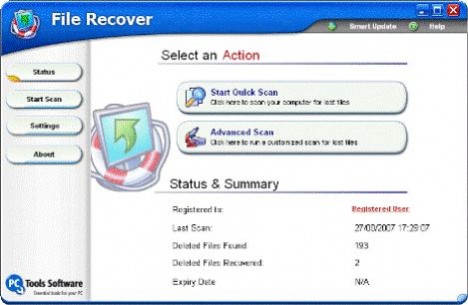 File Recover is a files recovery tool that ables to recover missing, deleted, erased, removed or lost documents, or other files that previously existed. It can recover files that accidentally lost by emptying the Recycle Bin, or using other deletion actions that bypass the Recycle Bin altogether such as Windows Shift-Delete, command line deletion, deleting excessively large files, deleting files with long file name which unable to fit into Recycle Bin or using applications that delete files without the Recycle Bin, if the content of the files on the drive is not yet overwritten by another file. Best of all, it works on any storage medium, including digital camera's memory card which contains precious photos which may be accidentally formatted.
Features of File Recover
Recovers files instantly from hard drives, floppy drives and other types of fixed media.
Rapid scan engine – a typical hard drive can be scanned for recoverable files within minutes.
Scan all files and directories on selected hard drives.
Search for a recoverable file using part or all of its file name.
Utilizing a non-destructive, read-only file recovery approach. File Recover will not write or make changes to the section of the drive from which it is recovering data.
Batch file recovery (recovers multiple files in one action).
Works around bad-sector disk areas. Recovers data where other programs fail.
Supports standard IDE/ATA/SCSI hard drives, including drives larger than 8 GB.
Supports hard drives formatted with Windows FAT16, FAT32 and NTFS file systems.
As part of promotion for VNU Publications Readers, PC Tools is giving away genuine legal license for File Recover 6.1, which entitle user for unlimited usage of File Recover without time limit or restriction. To get the free registration license name and key code together with link to access and download the free copy of File Recover, go to the following URL and fill up your name and email address and then submit.
http://www.pctools.com/file-recover/free/promo/VNU1107
An email with registration license name and license code which used to activate File Recover to non-expiry date full version product from trial version will be sent to your mailbox, together with direct download link to the setup installer to install File Recover 6.1.
The latest version of File Recover is 6.2.0.20, which appears to be not much different the free File Recover version 6.1.0.29. However, the free license key is not interchangeable.