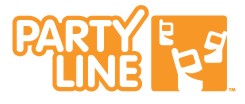 Facebook enthusiasts can now invite their friends in their social network community to join and have a group phone chat via the newly released, Party Line, by Equals. This new application in Facebook allows users to create their own "party line" and invite up to 5 friends to enjoy group communication for up to 15 minutes. The emergence of "Party Line" has substantially changed the façade of social networking. The new platform in Facebook has created considerable excitement among users who are active in the social networking community. They can initiate an instantaneous group phone chat with friends from other countries and enjoy the fun. It has bridged social networking and voice in a truly unique and compelling way.

The Party Line social networking utility is pretty easy to use. It doesn't require users to download or install any software. Users could just add in the Party Line application to their Facebook profile. Once it is added, Facebook members can just make the call via a mouse click from Facebook or they can alternatively dial 877 4 BUZZ ME (1 877 428 9963) from their mobile phone and Equals will dial out and add the other users to the Party Line. Users can read more on the technical assistance by Equal.
Party Line will be useful for maintaining relationships and social network with friends throughout the world. For instance, students who study at foreign country can use the service to call their family members. It is free to use and good for people who make calls quite frequently. The drawback about this communication utility is that audio advertisements will keep prompting out at every five minutes' interval of talking time.