Do you always forget your family annual events such as your spouse's birthday, family member's birthdays and anniversaries? Get a Jenda Lifetime Voice Calendar and you won't miss any of the important family events. The Voice Calendar is also able to record your daily appointments and functions as a reminder too.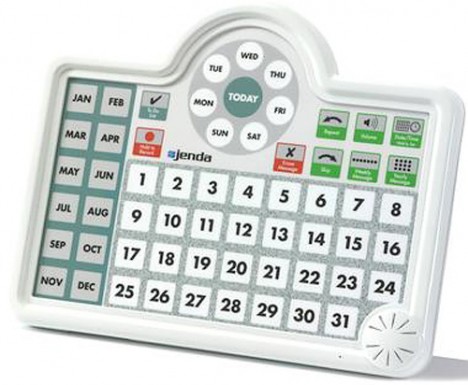 Jenda Voice Calendar is a perfect assistant for busy families. Every family member can record their appointment with this voice calendar. It's flexible and easy to use as claimed by Jenda. It provides a simple way to record your appointments and reminders with your own voice without any deciphering handwriting. Just select the right month followed by the day, then start recording your message by pressing 'hold to record' button. Jenda Voice Calendar will then remind you of the specified date by giving you a blinking light at the 'Today' button. Press it to hear your message.
For recurring events like a weekly family sport game, you only need to record once by selecting a day of the week, for example Saturday, then press 'Weekly' button, followed by holding the 'hold to record' key. Similar for annual events like birthdays and anniversaries, just press 'yearly' button before recording your voice. There is also a 'to-do list' button for recording things like grocery lists or things to do around the house like changing the curtains.
The voice calendar measures 10″ x 12″ and can be mounted on the refrigerator door, hung on the wall or placed on a tabletop. It functions on 3 AAA Alkaline batteries and you won't lose any messages even when the batteries totally run out. For just about $40 you can have a Jenda Lifetime Voice Calendar to keep all your family activities at your fingertips.