When biggest screen size, processor, RAM, and storage specs were not the only way of deciding which smartphone to buy. The Chinese phone makers, Oppo launch its flagship 4G-capable smartphone – Oppo R5 that emphasizes slimmest design and user-friendliness.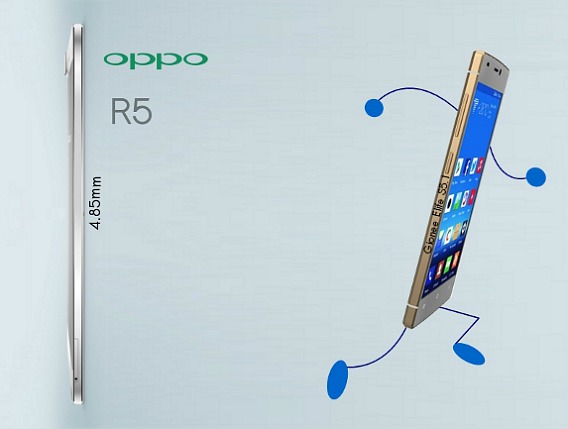 The R5 is Oppo's best phone to date with a combination of strong performance and boasts a 5.2-inch full HD AMOLED screen make it a worthy choice. The phone comes only in white colour at the moment, and features matte metal back with a tastefully engraved Oppo logo.
Key features of Oppo R5:
5.2-inch 1080p Full HD AMOLED display (1080 x 1920 pixel)
64-bit octa-core Qualcomm Snapdragon 615 processor
2GB of RAM
5-megapixels front camera and 13-megapixels rear camera
Supports LTE radio
Powered with a 2,000 mAh battery
Connectivity options: 4G LTE (including Indian 4G bands), 3G, Wi-Fi, Bluetooth 4.0 and GPS
Built-in 16GB of internal storage (no expandable microSD memory)
Comes with Color OS 2.0 that is based on Android KitKat operating system

Oppo R5 supports the OPPO's VOOC fast charging technology which claims to charge phone from 0 to 75% within 30 minutes. 5 minutes on the charger will be enough to last two hours phone standby time. The phone also equipped with 13-megapixel camera ensures your selfies are just as good as the rest of your photos.
Oppo R5 thickness only 0.3 mm makes it as the world's slimmest phone until headphone jack not available in Oppo R5. Therefore, music lovers need to use an adapter that plugs into the microUSB charging port or Bluetooth.
The Oppo R5 is priced at Rs 29,990 and pre-order available start on 1st January, 2015.
Video Intro for Oppo R5: