OpenSolaris is an open source operating system that getting increasingly popular with every passing day. OpenSolaris is created by Sun Microsystems to build a developer community around Solaris Operating System technology. OpenSolaris is derived from the Unix System V Release 4 codebase and is the only open source System V derivative available.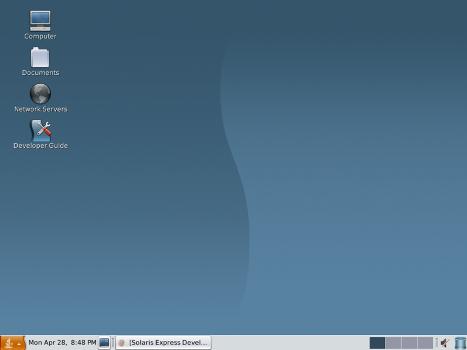 OpenSolaris 2008.05 is the latest version of OpenSolaris that was just released on May 5, 2008. OpenSolar 2008.05 is released in a CD ISO format which can be used to install OpenSolaris 2008.05 release, or used as a Live CD which can be used to boot up to fully functional desktop environment without having to install into hard disk.
OpenSolaris 2008.05 release uses the GNOME desktop environment as the primary user interface, and features ZFS file system which has advanced snapshotting capabilities. The Live CD desktop environment includes also the Firefox web browser and Thunderbird email client. OpenSolaris is supported to run in virtual machine using virtualization technology such as open source VirtualBox hypervisor.
OpenSolaris CD ISO images can be downloaded from Open Solaris web site (direct download links below). Two versions are available, namely OpenSolaris 2008.05 (Primary Languages) and OpenSolaris 2008.05 Compressed (All Languages). Primary languages are Chinese – Simplified, Chinese – Traditional, English, French, German, Italian, Japanese, Korean, Portuguese – Brazil, Russian, Spanish and Swedish, while other languages are Albanian, Arabic, Bulgarian, Catalan, Croatian, Czech, Danish, Dutch, Estonian, Finnish, Greek, Hebrew, Hinidi, Hungarian, Icelandic, Lithuanian, Latvia, Macedonian, Maltese, Norwegian Bokmål, Norwegian Nynorsk, Polish, Portuguese, Romanian, Serbian, Serbo-Croatian, Slovak, Slovenia, Thai and Turkish.
Direct Download Links to OpenSolaris 2008.05 Release:
os200805.iso (Primary Languages)
os200805g.iso (All Languages)
Best of all, not only is OpenSolaris 2008.05 is available for free usage, Sun Microsystems will send you a CD at no extra cost if you request for one. Yes, free delivery charge, free shipping free and free media price, and last but not least, worldwide international delivery available. Request for your free OpenSolaris 2008.05 CD here.