O&O CleverCache V4 Professional is a software tool to optimize File Cache Management of Windows XP, Windows 2000, and Windows NT from O&O Software, who always giving away O&O Safe Erase 1.0, O&O UnErase 2.0 and O&O Disk Image 2 SE Using O&O CleverCache will optimize the system for enormous performance boost, with potential to double the original system speed without any new hardware added or upgrading existing hardware components, and without restricting your system's stability.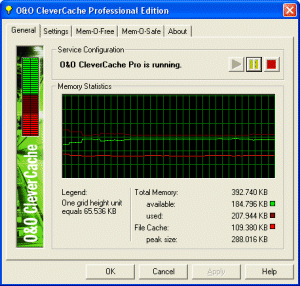 Features of O&O CleverCache Pro version 4.0:
Mem-O-Free for more available system memory
Mem-O-Safe for best data safety when system crashes
O&O Software is giving away the full version product of O&O CleverCache v4.0 Professional. To receive the personal license key for O&O CleverCache Pro V4.0, fill out the registration form at the following URL link:
http://www.oo-software.com/en/special/clevercache/register_frm.html
The free genuine license key for O&O CleverCache Pro 4.0 for Windows XP, Windows 2000, and Windows NT will be emailed to your mailbox. With this license key you will be able to upgrade from the test or trial version of O&O CleverCache V4.0 installed with the following downloaded setup installer to the full registered version.
Download O&O CleverCache 4 Professional Edition version 4.0.742: oocc4pro_english_2000xp.zip