Have you ever experienced receiving an unknown link from your friend via e-mail or online messenger with an attractive title? Have you ever thought that the link might not be sent by your friend? It most probably is sent by a hacker through your friend's e-mail or messenger. However, most of us will click on the link without thinking twice and your computer will be affected by viruses, Trojan horse, spyware or malware. Scan the link first with Online Link Scan to prevent your computer from being attacked.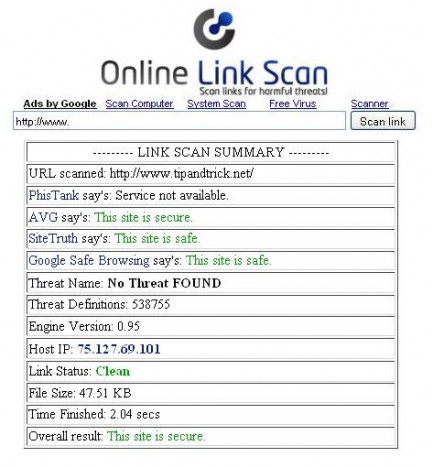 Online Link Scan is a new web service that helps you to scan the link and lets you know whether the link is safe for surfing or not. This web service is useful and enables users to detect any hidden or suspicious links that might contain viruses, Trojan horses, spyware and other malware. The scanning is done by various reliable web services such as AVG, SiteTruth, PhisTank and Google Safe Browsing. This will give you more assurance and confidence in Online Link Scan's results.
It is simple to use. Just key in the link into the box provided at Online Link Scan's webpage and press the scan link button. A link scan summary will show all the relevant results and you will know whether the link is safe for surfing or not.