Norton Security Deluxe is an advanced security software that provides protection against threats, viruses, Spyware, Malware, Phishing, hackers and various other threats to PC, Mac, laptop, smartphone or tablet.
Norton Security Deluxe integrated with intelligence and advanced technologies to helps protect finances, privacy and personal information while surf online. With Norton Security Deluxe, everyone can shop, surf, bank and socialize without worry.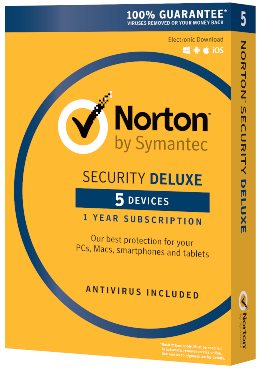 Features of Norton Security Deluxe:
Fast and resource-saving antivirus technology with automatic updates
User friendly interface and easily understandable
Secures up to five PCs, Macs, Android and iOS devices with a single subscription
Helps defend against viruses that can damage files and render devices useless
Helps protect against cybercriminals attempting to take over users device
Helps shield from scammers while users surf, bank, socialize and shop online
Helps identify and shut down applications that harm users PC performance and stability
Manage all devices from a single, easy-to-use portal
Mobile Insight: Checks apps for potential privacy risks, high battery and data use, and intrusive behavior.
Mobile device location: Remotely locates lost or stolen devices, locks them, wipes them, or sets off scream alarms.
Computer tune-up: Provides tools to fix common computer problems, free up memory, remove unneeded files, and clean up the hard drive. (Windows only)
Password management: Remembers, secures, and automatically enters usernames and passwords; generates new passwords.
As part of promotional offer, Norton is giving away free 3 month license of Norton Security Deluxe for 5 devices to everyone at no cost. Just follow the steps below to grab free 3 month Norton Security Deluxe license:
Download Norton Security for 3 months and then install into PC: Norton Security Deluxe.exe
Create an account in Help > My Norton > Create Account.
An email from Norton will receive containing with free Norton Security Deluxe license for 5 devices.
Next, after installed and created an account, download the latest version software: Norton Security Deluxe update
Once finished, reboot the PC, and then log in to account.
Norton Security Deluxe compatible with Windows 7, 8, 8.1, and Windows 10.
You can share or follow us on Twitter, add us to your circle on Google+ or like our Facebook page to keep yourself updated on all the latest info from Microsoft, Google, Apple and the Web.
Read on. viagra online malaysia Often the scientific term rhinoplasty can be confusing,
It is the best way to prevent tooth and gum infections and requires regular ultrasonic ramshackles.