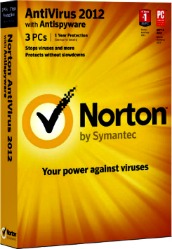 Norton AntiVirus 2012 is powerful and comprehensive security software that provides real time protection against viruses, worms, spyware, spam e-mail, cyber criminals, phishing attacks, identity theft, and harmful websites away without compromising PC performance. The new Norton AntiVirus 2012 added new features and improvements which come with Auto-Protect system runs in background, watching files and detecting threats. In addition, the program also engineered around the Intelligent Threat Protection concept that uses multiple layers of security to proactively block attacks and remove threats. Norton AntiVirus 2012 also contains Norton Insight Network, Norton Download Insight, and Norton File Insight to delivers innovative intelligence-driven technology for faster and maximum protection.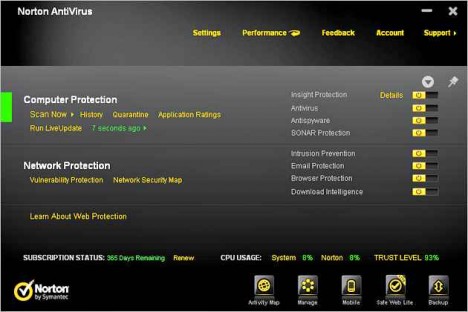 Features of Norton AntiVirus 2012:
Keeps your system protected against all types of malicious threats.
Norton Insight Network to makes use of Symantec's global security network know about the most recent threats.
Norton Download Insight warns users of dangerous downloads from the Internet.
Norton File Insight shows information about applications that are trying to install.
Blocks browser exploits and protects against infected web sites.
Rapid pulse updates every 5 to 15 minutes to provides up-to-the-minute protection.
Control without disruptions.
Automatically schedules scans and updates to occur while PC is idle.
Engineered for Speed.
Prevents bots from taking control of your PC.
Recovery tool boots and repairs badly infected PCs.
Norton Automatic Renewal Service helps to ensure users protected by automatically renewing the product subscription before it expires.
Automatically detects and removes spyware, viruses, Trojans, bots and Internet worms.
Norton Ongoing Protection provides continuous protection updates and new product features.
Detects and automatically removes malicious threats.
A one-year subscription for 1 home PCs of Norton AntiVirus 2012 normally cost $39.99 to purchase. As part of promotional offer from Symantec, now everybody can get a free 6 months subscription of Norton AntiVirus 2012 with no restriction nor locked features.
To get the free license for Norton AntiVirus 2012, just head to the following URL: http://us.norton.com/ps/loem/EN/Facebook/index.html
Download the Norton AntiVirus 2012 setup installer: http://liveupdate.symantecliveupdate.com/upgrade/NSS/SymCCIS/Production/NPI/facebook/Setup.exe
Once complete install, enter the email address and create a new Norton account to get Norton Antivirus 2012 free for 6 months.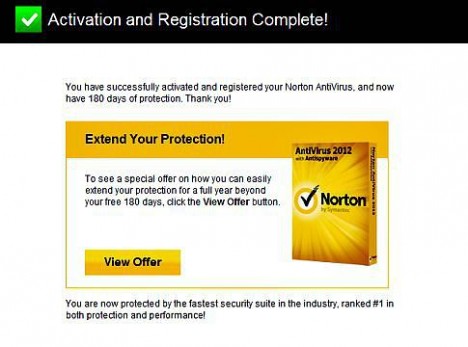 Norton AntiVirus 2012 supports Microsoft Windows XP, Windows Vista, and Windows 7.