Norman Security Suite 10 is an all-in-one security software that provides Antivirus, Anti-Malware, Email Protection, Security Suite, Security Suite Pro, Ad-Aware PRO, and etc. Norman Security Suite 10 come with user-friendly interface that suitable for both professional and novice uses which designed to protect from inappropriate content, rootkits and other hostile activity. In addition, Norman Security Suite has improved security updates run quickly and invisibly without disrupting PC speed. It also features monitoring and address the threats for users.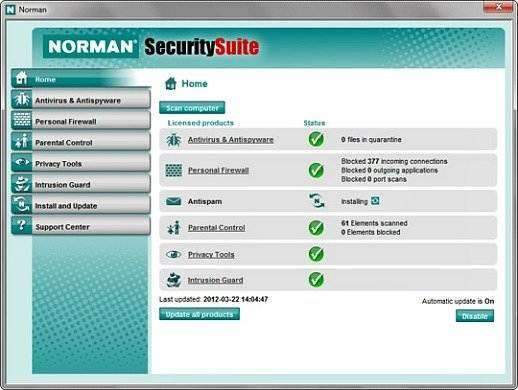 Features of Norman Security Suite 10:
Fast scanning, efficient malware detection
Ease of use, simplified user interface
Reverse action from malicious software
Trusted Vendor Support
Simple licence management
Parental control
Antivirus & Antispyware
Smart firewall
Norman Security Suite 10 normally cost €54.95 per single license. As part of promotional offer, interested user can now have a chance to grab Norman Security Suite 10 full version with no cost. To get the free full license key code, follow these steps:
Browse to the following Norman registration page:
http://www.norman.com/support/auth
Enter the name, email address, OEM code WI-NSS13-DE and other information, then click "SUBMIT FORM" button.
Note: The OEM code is required to complete the registration.
An email containing the license key (authentication key) which is valid for 12 months on Norman Security Suite 10 will be sent to the registered mailbox.
Download the Norman Security Suite 10 by using link below:
http://www.norman.com/norman_security_suite_10.1_full_installers
Install the Norman Security Suite 10, and enter the registration license serial key received in email to enjoy the fully version of Norman Security Suite 10 for 12-month subscription.
Norman Security Suite 10 supports Windows XP, Windows Vista, Windows 7, and Windows 8.