Nokia Corporation had recently introduced their Point & Find application for all their Internet-enabled Nokia camera phones – a new way to find and connect to relevant information when you're on the go.



Unlike the Sony Ericsson mobile phone's Track ID (a music recognition service whereby user can click to record a song snippets, send over the Internet and retrieves information on the artist, song title and album), this new Nokia Point & Find service is photo and image based. For example, if you point your camera phone at a movie poster (snap an image) and send it over the Internet, you'll be able to retrieve information on local show times, reviews, trailers and even book/purchase tickets directly from your mobile phone.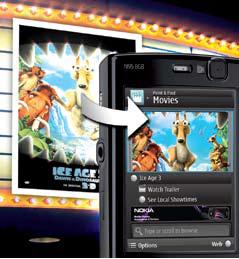 In the near future, Nokia Point & Find will also enable shoppers to point at barcodes of retail products and obtain price information and comparisons. However, this service is currently limited to just movies and is available in the UK and US, with capabilities of expanding into other services and countries later on.
Download the beta version of Nokia Point & Find application to your internet-enabled camera phone at pointandfind.nokia.com.