Nowadays, quite a number of people pay a lot of attention on environmental protection issues. They prefer products that have eco-friendly features or has 'green' elements. Thus, many companies have started to introduce 'green' elements in their latest products. Nikon is one of them that goes green on its newly announced binoculars – Ecobins. The Ecobins come with numerous eco-friendly features, from the product itself to its accessories as well as the packaging.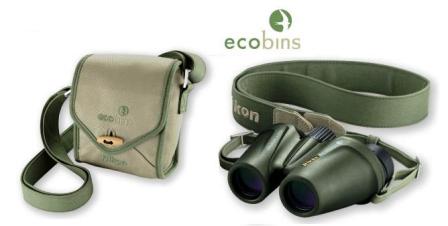 Green Features
Ecobins are available in 10×25 and use Eco-Glass that is lead and arsenic free in the lenses and prisms. The rubber coating is a non-chloride mixture and uses no harmful inks or dyes in production according to the company's release. The strap is made by 100% all-natural Lenzing TENCEL fiber which is produced from sustainable Eucalyptus forests and manufactured with minimal waste. Similarly, the travel case is produced from TENCEL fiber. This material is chemical free, soft as silk, easily absorbs excess liquid and releases the liquid into the atmosphere quickly.

What is most interesting here is that Nikon's green initiatives not only stop at the product itself. The Ecobins's packaging is also very eco-friendly. The box is constructed from eighty-five percent recycled material and is printed on recyclable and waterproof FiberStone paper. This recyclable paper is completely TREE-FREE and made from post-consumer limestone collected from existing quarries. The production process of FiberStone paper is clean and does not utilize water or emit toxins into the air.
Other Features
Fully waterproof and fogproof
Apherical eyepiece lenses that provide distortion-free viewing
Internal blackening to minimize light loss inside binocular tubes
Multi-coated lenses for improved brightness, contrast and true color
15.9 mm turn-and-slide rubber eyecups
Diopter control with click-stop adjustment for correcting normal right eye and left eye imbalance
Size (L&W): 4 X 4.5 inches
Weight: 12.9oz
The Ecobins Binoculars are available at USD$169.95.