The world's leader in mobility, driving the transformation and growth of the converging Internet and communications industries, Nokia has just announced its newest N-series device – Nokia N810 Internet Tablet WiMAX Edition, which designed to take advantage of new wide-area high-speed mobile WiMAX networks, connecting users to the Internet beyond hotspots.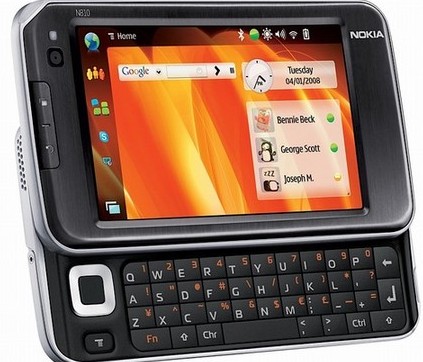 According to the company, "WiMAX is a standards-based wireless broadband technology that delivers an open Internet experience similar to that of fixed broadband technologies with typical data download speeds of up to 2-4 Mbps per user with peak download speeds of up to 10 Mbps. Unlike current single point local area technologies like Wi-Fi which have a range of a few hundred feet, WiMAX networks consist of a number of interconnected base stations, each with a radius of up to 2-3 miles, that allow for handoffs from one base station to another as users move about a region or metro area. Additionally, WiMAX networks integrate technology designed to maximize the quality of service for each subscriber."
Key Features Of Nokia N810 WiMAX Edition:
Stay online with combined Wi-Fi and XOHM WiMAX mobile network
Browser powered by Mozilla with Adobe Flash 9 plug-in
Pocket-sized, easy to carry, slide-out full QWERTY keyboard and high resolution 4.13-inch WVGA (800×480 pixel) touchscreen display
Internet calling with built-in VGA web cam
Easy chatting over Skype, GoogleTalk and Gizmo5
Built-in 2GB storage with microSD memory expansion slot (up to 8GB)
Integrated high-quality stereo speakers
Integrated GPS receiver
Map application with your area maps
Easy transfer of your music and movies from your compatible PC
"By delivering the kind of open Internet experience that consumers previously only expected on a desktop PC, the Nokia N810 WiMAX Edition is a compelling example of how next generation broadband wireless technology will not only change the way people think about the Internet, it will change the very nature of the Internet itself," said Ari Virtanen, Vice President of Convergence Products, Nokia. "Much in the way that the evolution of the fixed Internet from dial-up to broadband enabled a host of new Internet services and changed people's expectations of what an Internet experience should be, the transition to a broadband Internet experience set free from the constraints of a fixed network will spark the next wave of new mobile Internet services, and will forever change the perception of what the Internet can be."
The new Nokia N810 Internet Tablet WiMAX Edition is expected to hit the US market by the summer of 2008, but pricing hasn't been set yet.