Philips has introduced a brand new flagship universal remote control in its Prestigo series – Prestigo SRT9320. The SRT9320 features a 2.8-inch full color touchscreen on the right top half and other regular buttons on the lower portion of the remote control.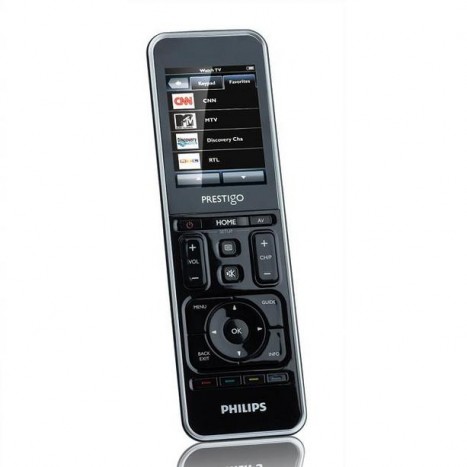 The Prestigo SRT9320 is able to control up to 20 devices. There are up to 300,000 devices in its memory that allow users to choose and sync up. All can be done on the remote without any connection to a PC or complicated programming sequences or codes.
You can set up activity based keys with the Prestigo touchscreen that allow you to activate all necessary devices without having to do it separately. For example, the key "watch a film" would turn on the DVD player and adjust the TV to the right channel. Furthermore, the touchscreen can be personalized with channel icons for fast and easy access to your favorite TV channels like CNN, Discovery, MTV, etc.
The Prestigo SRT9320 comes with a USB port for software updates and rechargeable batteries with a charger adapter.
The Philips Prestigo SRT9320 is priced at about $249.