The market leader in the Mini-PC market segment and the manufacturer of Multi-Form-Factor solutions, Shuttle has recently launched its first AMD-based HD-compatible Mini-PC Complete System, named as XPC G5 6801M, featuring LG GGC-H20L Blu-ray/HD DVD Combo drive that can play high-resolution films from both HD media.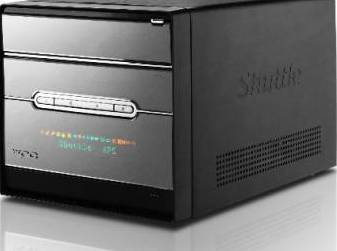 "The LG GGC-H20L Combo drive is suitable for both HD formats and AMD's Athlon 64 X2 6000+ processor and in conjunction with the 2GB DDR2-800 memory delivers the required performance for fluid playback," said Tom Seiffert, Head of Marketing & PR at Shuttle Computer Handels GmbH.
Technical Specifications Of Shuttle XPC G5 6801M:
Shuttle XPC Barebone SN68SG2 with the PF27 front panel from the "Shuttle XPC Accessories" program
AMD Athlon X2 6000+ processor
2x 1GB DDR2-800 memory
500GB hard disk, Serial-ATA II
ATI HD3450, 256 MB (Graphics Card)
Wireless LAN
LG GGC-H20L Blu-ray/HD DVD Combo
DVB-T/Analog Hybrid TV Tuner
25-in-1 Card-Reader
Windows Vista Home Premium OS
According to the company, this cool Mini-PC Complete System also includes a single HDMI cable which able to transfer top quality image and sound to modern flat-screen televisions for play back, thereby avoiding any expensive installation costs.
The new Shuttle XPC G5 6801M Mini-PC is now available at specialist retailers for a recommended price of EUR 1,234.