If you're planning to buy a new portable MP3 player, you might consider the newly launched YP-P3 MP3 player from Samsung. The YP-P3 is not merely a portable MP3 player but it does a lot more than that. It is an attractive player with solid metal finish that delivers quality sound and provides you with great entertainment.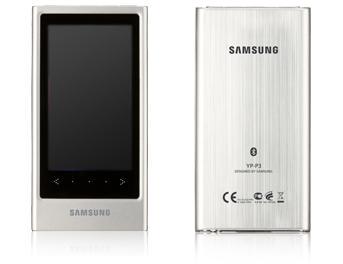 The three-inch YP-P3 is WQVGA screen is a high resolution display which produces an extremely clear image. It's a scratch-resistant tempered glass display too. The display's touchsreen technology will acknowledge your finger presses. The YP-P3's widgets (small applications running on YP-P3) and icons on the desktop will come alive just with a touch of your finger. You can feel vibration feedback based on what you touch.
The YP-P3 provides 3 pages of My Desk for user customization. All icons and widgets can be moved around. You can drag the most useful icons and widgets to the main page so you can use them quickly and easily when necessary. There are various EmoDio widgets available on the YP-P3. These widgets are quite useful and entertaining; examples include a simple memo application, analogue and digital clocks, a photo slideshow, a light-bulb which acts as a brightness control and a little butterfly flying around the screen.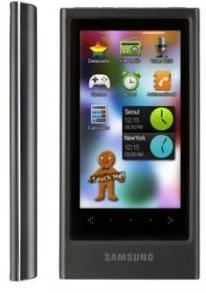 The new YP-P3 supports quite a bundle of audio files such as MP3, WMA, OGG, etc. as well as video (MPEG4/WMV/H.264/ASF/RMVB) and picture (JPG/PNG/BMP). Its DNSe 3.0 feature enables users to upscale the higher frequency part of the music that is lost when audio is compressed into formats such as MP3, WMA and AAC. The YP-P3 has max 0.8W mono speaker to enjoy media without earphones.
Samsung VP-P3 supports Bluetooth 2.1 + EDR that provides high speed data transfer wirelessly. You can also use the VP-P3 as a hands-free speakerphone for your mobile phone, to listen to wireless music, or playBluetooth games with your friend. The Li-Polymer battery enables 30 hours of music playback or 5 hours of video as claimed by Samsung.
Other features:
Capacity: 16GB
Colour: Black / Silver
Display: 3″ Wide, WQVGA(480×272)
Connectivity: Bluetooth 2.0, USB cable
Audio supports: MP3/WMA/OGG/AAC/FLAC/WAV/ASF
Video supports: MPEG4/WMV/H.264/ASF/RMVB
Picture supports: JPG/PNG/BMP
Music Storage Capacity: about 4000 songs
Dimensions: 102.0 x 52.7 x 9.9 mm
FM Radio/Rec., Voice Rec., Alarm