The famous specialist in wireless mobile telephony devices, Parrot has introduced an exceptional 7-inch digital photo frame designed by the leading lady of French design – Andree Putman, including a pure and sober design that skilfully contrasts the black and white tones with a subtle play of transparency.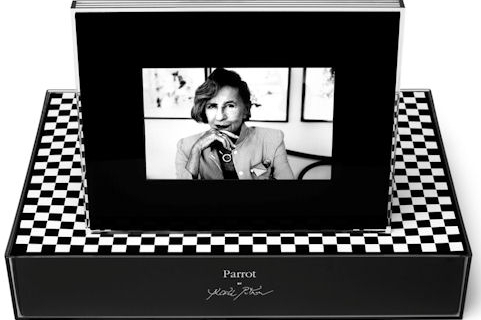 "I would like to pay tribute to Parrot for daring to think that this wonder of technology could be coiled up inside a beautiful wrapping," said Andree Putman. "Storage fans will be the most vulnerable to the charms of this object, which will overcome any problems of arranging photo souvenirs."
This digital photo frame can allow users to transfer their valuable moments from their cellphones to the frame wirelessly, thanks to the Bluetooth technology. There's also an integrated SD card reader and USB port for uploading pictures.
According to the company, "A unique interface inspired by Andrée Putman's minimalist design allows your photos to be managed intuitively. Because the emphasis is on picture quality, Parrot offers the very best in display technology: the LCD screen with a 15 cm diagonal measurement displays up to 262 144 shades of colour for bright, strikingly realistic souvenirs."
"Here at Parrot, we have always put design in the limelight. The Parrot frame by Andree Putman is the first in a series of artistic dedications for our range of wireless audiovisual products," said Henri Seydoux, CEO and founder of Parrot.
The new Parrot digital photo frame by Andree Putman will be available in coming June for £249.99 or about $500.