One of the major developer and contributor to the success of the Blu-ray format, Panasonic has introduced its new DMP-B15 at 2009 CES, which the company claims as the world's first portable Blu-ray Disc player, incorporating a high quality 8.9-inch WSVGA (1024×600 resolution) LCD screen, unique VIERA CAST internet accessibility and BD Live functionality, aiming to provide those on the go an ultimate high definition Blu-ray experience.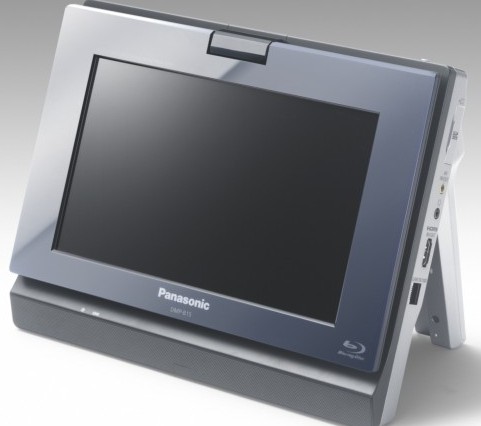 According to Panasonic, "The DMP-B15 provides all the technology found in its stand alone brethren, the DMP-BD60, DMP-BD80 and the VHS-Blu-ray dual player DMP-BD70V. Image quality is of the highest level, thanks to PHL Reference Chroma Processor Plus technology developed in collaboration with Panasonic Hollywood Laboratory."
In addition to the use as a standalone Blu-ray Disc player, the Panasonic DMP-B15 can also be connected to an HDTV via HDMI cable. Furthermore, it sports an SD memory card slot that allows users to view digital photos and HD video stored on the card.
"As a pioneer in the development of DVD and Blu-ray expertise, Panasonic has always been in the forefront of cutting edge, consumer friendly technology. Panasonic was the first company to bring to market a portable DVD player and stand alone Blu-ray players to feature Bonus View and BD Live," said Richard Simone, Director, Entertainment Group, Panasonic Consumer Electronics Company. "Blu-ray technology came together with HDTVs to bring exciting High Definition viewing into the living room. With the introduction of this unique portable Blu-ray Disc player, the consumer can take this HD entertainment experience when they travel."
The new Panasonic DMP-B15 portable Blu-ray Disc player that includes an integrated three hour rechargeable battery will be available in coming May, but no words on its price yet.