The famous multinational public company producing imaging and photographic materials and equipment, Kodak has announced an enhanced, sleek and stylish digital picture frames – EasyShare P720 (7-inch), M820 (8-inch), M1020 (10-inch), boasting a newly-announced Quick Touch Border feature which allows for controlling the electronic device with a touch or slide of your finger, while leaving the display free of fingerprint and smudge, aiming to provide consumers a more personalized and intuitive picture viewing experience.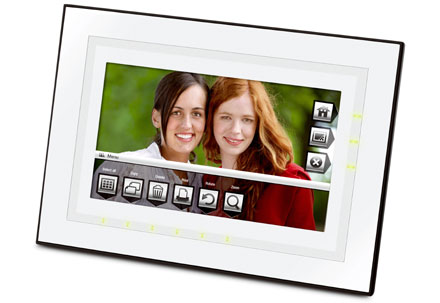 "Kodak's acclaimed and industry-leading Digital Picture Frames let
consumers bring their favorite memories to life, releasing them from a
computer and displaying them in brilliant quality in the home or office," said John Blake, general manager Digital Capture and Devices, Vice President, Eastman Kodak Company. "With the addition of Quick Touch Border, Kodak has made the consumer experience even more intuitive and engaging."
In addition, the EasyShare M820 and M1020 also feature built-in 128MB memory and built-in speaker for audio and video support, while the P720 only has the basic photo frame functions.
The Kodak Easyshare P720, M820 and M1020 digital photo frames are expected to hit the market by April for about $120, $180 and $230, respectively.