The innovator of industrial computer peripherals, iKey has recently introduced a new industrial keyboard in addition to its rugged hardware portfolio – iKey Membrane keyboards, which designed to withstand the harshest of environments thanks to the hardcoated, textured, polyester film that claims to be way more rugged than industrial silicone rubber keypads.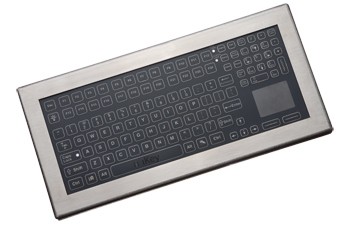 "What's great about the membrane keyboard is there are no crevices," said Joel East, Director of Technical Design at iKey. "If you're working around processing byproducts, grease, or other things that might accumulate between the keys of a regular keyboard, you can just spray it down and know that it's clean."
In addition, the Membrane keyboards also feature slightly raised, mechanical snap-dome keys and an integrated Synaptics touchpad, which completely sealed under an extra layer of PVC membrane, aiming to extend the life of the product.
The current membrane keyboards include a desktop model (DT-5K-MEM-TP) and a panel mount model (PM-5K-MEM-TP), both in stainless steel cases, as well as an OEM kit (KYB-5K-MEM-TP-OEM) for integration into industrial machinery.