The worldwide leader in end-to-end networking solutions for consumer and business, D-Link and provider of revolutionary Internet TV service, Veoh Networks have jointly announced the new D-Link PC-on-TV media player (DPG-1200). As its name implied, the PC-on-TV can stream the content playing on your PC/notebook to your big screen TV, along with a free service that able to provide both branded and user-created video content in high-quality for full-screen environments – VeohTV, aiming to let consumers experience their media and Internet video like never before.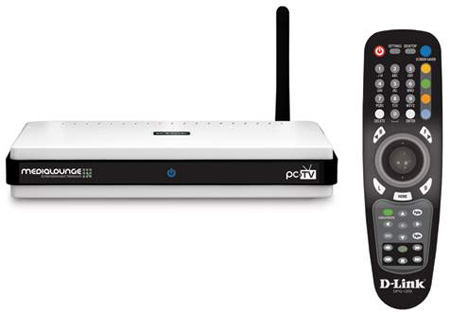 "PC-on-TV is truly unique because it allows users to view and access virtually all of the files and programs from the PCs on their home network; streamed wirelessly to a TV in another room," said Daniel Kelley, senior director of marketing, D-Link Systems, Inc. "The addition of the intuitive VeohTV application enables us to offer our customers an innovative Internet video experience on their television with a tremendous amount of programming and customization to access from the comfort of their couch."
According to the company, the innovative D-Link PC-on-TV that works both with TVs and projectors can support photo viewing at 1024 x 768 pixel screen resolution and streaming video at 640 x 480 pixel resolution at up to 30 frames per second.
"We're pleased to be part of the D-Link PC-on-TV package and to offer viewers another easy way to experience what Veoh has to offer on their televisions," said Joshua Metzger, SVP of Corporate Development, Veoh Networks. "By partnering with D-Link, we are broadening our ability to extend VeohTV to television sets worldwide and introduce new viewers to VeohTV's vast breadth of content and full-screen, remote-controllable viewing capabilties."
The new D-Link PC-on-TV breakthrough device with VeohTV enabling users to watch and record video from thousands of websites is now available for the MSRP of $239.99.