The maker of the world's most secure flash drive with Internet protection services, IronKey has launched the new 8GB-capacity version of its IronKey secure USB devices. It's the rugged, waterproof and tamper resistant USB drives that include strong authentication, portable applications, ultra-fast memory and always-on hardware encryption which ensures total security against cold-boot and brute force attacks, enabling by an advanced, military-grade and powerful onboard Cryptochip.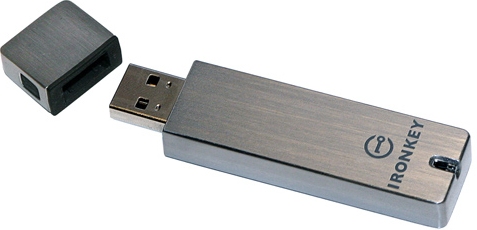 "Our virtual desktop customers have been eagerly awaiting IronKey 8GB drives because they are deploying large Windows desktops which rapidly wear out ordinary flash drives and most importantly need to be secured," said John Jefferies, vice president of product marketing at IronKey. "Running virtual desktops from flash drives demands high performance with superior reliability which is why customers are choosing to deliver mobile desktops and business continuity solutions on IronKey."
According to the company, IronKey Secure USB flash drives are come pre-loaded with a suite of applications and services including portable version of Firefox, IronKey Password Manager, RSA SecurID and a Secure Sessions service. Policy settings can allow IronKey administrators to turn these applications off or on as desired.
The 8GB version of IronKey Secure USB Drives is available now for $299.