One of the world's leading providers of navigation products and software solutions, NAVIGON has announced the release of the NAVIGON 2100 max and NAVIGON 2120 max personal navigation devices (PNDs), incorporating slim, stylish piano-black casings, anti-glare 4.3 inch touchscreen display and new DirectHelp feature, which aimed to enhance your navigation experience.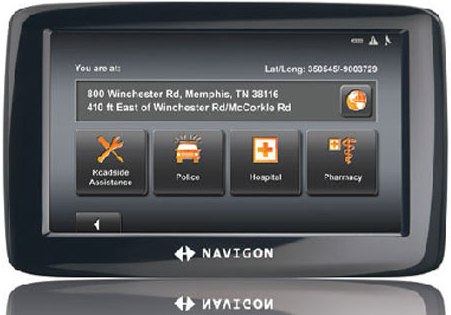 "Providing consumers with affordable products, without sacrificing features that play a significant role in their navigation experience, is our top focus when bringing new products to market," said Andreas Hecht, NAVIGON's president for the Americas. "The success of the NAVIGON 2100 unit, which was the second best selling PND in February, proves that it is possible to incorporate traditional high-end features, such as text-to-speech, into an affordable device that appeals to a broad range of consumers. With the NAVIGON 2100 max, we are building on this philosophy by incorporating more features, such as a widescreen and DirectHelp, while not compromising the affordability of the product."
Key Features Of NAVIGON 2100 max And 2120 max:
DirectHelp: provides instant access to directions and phone numbers of emergency services at the touch of a button. Finds the nearest hospital, police station, tow truck company or pharmacy, and indicate your exact location to help these services locate you
Reality View: exclusive and available only on NAVIGON devices, Reality View provides 3D, photo-realistic virtual reality views of complex interchanges, complete with road geometry and actual road sign text
Text-to-Speech: provides specific, clearly spoken driving directions and actual street names in a variety of languages
Lane Assistant: offers simple to view lane guidance to assist drivers in making the correct upcoming maneuver
Automatic Speed Warnings: indicates posted speed limit and notifies driver with visual and verbal warnings when speeding
Route Planning: allows users to plot a route with multiple waypoints — a feature found only on high-priced competitor devices
According to the company, "The NAVIGON 2100/2120 max devices are compatible with NAVIGON's groundbreaking new FreshMaps service. FreshMaps provides up to 12 trusted, field-verified, and quality-controlled map and POI updates over a three year period to ensure accurate driving directions over time. Both the NAVIGON 2100 max and NAVIGON 2120 max are also compatible with NAVIGON's optional Lifetime Traffic and ZAGAT SURVEY Ratings and Reviews accessories."
The new Navigon 2100 max GPS device shipping with maps of the continental US is available now for $300, while the Navigon 2120 max with maps of the continental U.S. and Canada is available for purchase in Canada only with an MSRP of $330 CAD.