Creative has introduced MovieWorks HD iPod dock – a gadget that transforms your iPod from a portable device into a high-quality HD entertainment system. The sound system produced by MovieWorks HD via your iPod is excellent and better than CDs. You can also experience the movies stored on your iPod in high definition mode on your home TV. You simply won't experience better audio from your iPod with any other docks.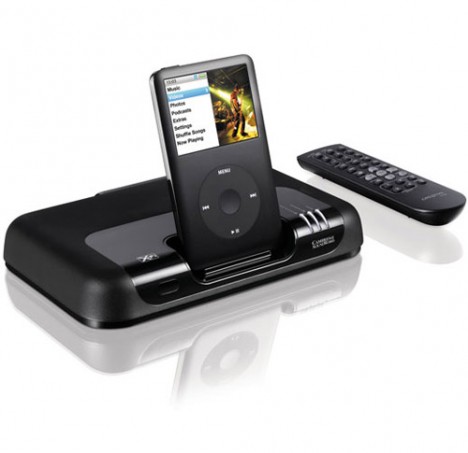 The MovieWorks HD is equipped with Creative Technology's award-winning X-Fi Xtreme Fidelity® audio technology with built-in X-Fi Crystallizer and X-Fi CMSS-3D technology. The X-Fi Crystallizer is designed to enhance the details of compressed music and make the music sound richer and fuller. Likewise, the X-Fi CMSS-3D is used to convert the stereo signal into multi-channel DTS surround and making the music or movies seem more alive and vibrant than ever with your home theater.
The MovieWorks HD comes with a wireless IR remote that lets you easily control your iPod menus on your TV screen. In addition, MovieWorks HD can distribute the music into the other rooms of your home by using Creative Wireless Receiver. Just connect Creative Wireless Receiver to an additional entertainment system or multimedia speaker in another room of your home and start enjoying your iPod music. MovieWorks HD supports up to 4 Wireless Receivers.
The MovieWorks HD can be purchased at $249.99 directly from Cambridge Soundworks. The price, however, does not include the Creative Wireless Receiver.