The emergence of the free video download website has encouraged more and more users to download movies. Most of the users will download movies and are not keen to buy DVD and Blu-ray disc or subscribe to live or on-demand streaming TV service. Even the downloading of video clips to device are now easy and free, but there always been a problem for users who has difficulty to keep track all of the movies detail. To prevent this problem, one of the ways is to download Movie Explorer.

Movie Explorer is an easy to use utility program for Windows that is designed to help users keep track all of the movies available on disk or other media. It will automatically scan from the folder chosen. With Movie Explorer, users can easily get an entire database such as titles, descriptions, artwork, and ratings from iMDB. Besides that, users also can browse movie and launch the file directly from the program.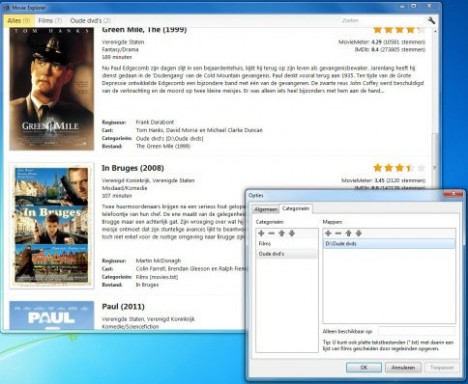 Features of Movie Explorer:
Support Multi-language user interface
Automatically collects movie details and posters from internet
Automatically detects movie files added to the specified directories and adds them to the correct category
Faster correct movie information in the background by using a multi-threaded mechanism
Creation of categories possible to group similar movies
DPI-aware and zooming available in both main window and dialogs
Highly portable, saves your settings and database to XML-files in the application directory instead of the system registry
Movie Explorer is currently available in beta version. To get the free copy of Movie Explorer, just follow these steps:
Visit Movie Explorer officially website, and then click on "Download" button.

Or alternatively,
Download Movie Explorer with direct download link below:
http://www.anlarke.com/MovieExplorer/download.php?file=MovieExplorer.zip
Install and activate Movie Explorer.
Movie Explorer is compatible with Microsoft Windows 2000, Windows XP, Windows Vista, and Windows 7.