We have seen many personal finance apps over the years. Most of them feature much of the same functionality and it tends to only has the interface that distinguishes between them. They are generally very helpful, but many still lack in several aspects that would meet the expectations from a lot of users. Although it is not actually very much work in real terms, it is time-consuming and easy to forget when you are in a hurry or in the middle of a busy shop. Mint.com is the ideal solution for those times and for anyone yet to find a finance app that suits their needs. Mint.com is fun to use for managing a budget, bills, and personal finance accounts.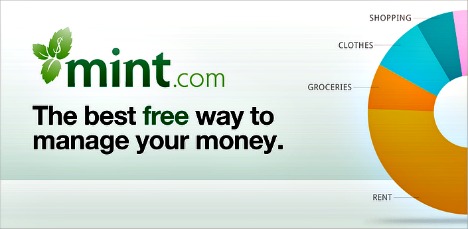 Mint does away with all the necessity of adding in every little transaction cards, PayPal, business accounts and mortgage so it pulls all balance information in as well as information about transactions. Users can then go in and click on individual transactions and add more details if they wish. This enables users to keep a very clear picture of exactly where they money is going without having to input everything itself.
Features of Mint.com:
Email or SMS cell alerts for unusual account activity, when a bill is due, or an account has a low balance.
Bank level data security policies for account aggregation.
Financial reports are easily customized and provide information in easy-to-read pie charts and bar graphs for fast analysis.
Can create spending and income categories on the fly, without leaving the feature you're using.
Downloads from over 16,000 financial institutions.
Mint handles automatically categorizing downloaded transactions very well.
Systems alerts let users know if updates are being held up.
Can add value of home, car or other assets for accurate net worth.
Mint.com also includes a budget facility that enables users to set budgets for anything their like. These could be entertainment, dining out, clothes purchases or whatever they want. In addition, it also comes with a widget and a live folder than can be enabled in the options. The widget gives users a simple total credit balance and debit balance. There is a refresh button so that users can hit it to get the most up-to-date totals. The live folder gives users an instant breakdown of all recent transactions without having to go right into the app to see them. If users are worried about security, users can turn off both the widget and the live folder and add a password to limit access to the app itself.
Unlike apps which users enter transaction information on the fly, users don't have as much control when it comes to the details of transactions, so users will need to regularly go in and add notes. Users can't expect for everything to be done for but Mint.com removes a lot of the extra work required by similar apps.
Download the Mint.com from Google play store: https://play.google.com/store/apps/details?id=com.mint
Download the Mint.com from iTunes store: https://itunes.apple.com/us/app/mint.com-personal-finance/id300238550?mt=8
Mint.com is runs on android 2.2 and later versions.