Have you ever dreamt that you have psychic powers such as becoming invisible or moving things with your mind while you were a child? Mindflex can help make your childhood dreams come true. Mindflex is a mind control game that lets you control a ball in mid-air to go through a series of obstacles. Does it sound impossible and unbelievable?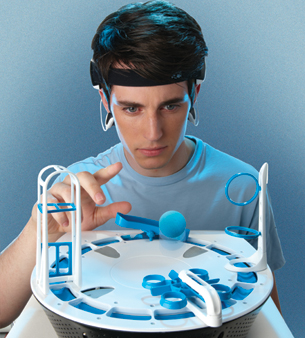 Mindflex is a game introduced by Mattel. It is a combination of advanced technology and mind power game. Mindflex comes in two parts: a strange wireless headband and a white-blue color plastic console with obstacles and small foam balls. The wireless headband is equipped with sensors at your ears and forehead to read the intensity of your brainwaves. Then it sends signal wirelessly to a fan at the plastic console. This fan will control the ball levitation. The more you concentrate with your mind, the stronger your brainwaves which will result in a stronger rotation of the fan and the ball will likewise float higher. Relaxing your mind will slow down the fan's airflow and lower the ball as well.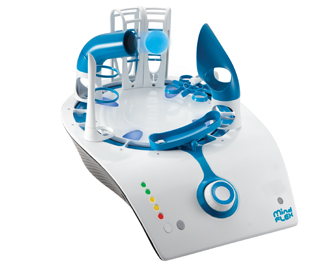 Your concentration will only control the vertical movement of the ball. Horizontal movement is controlled by a knob on the base of the console. Once you are able to control the ball vertically and horizontally, you can start the game. There are five games modes: Freestyle, Mental Marathon, Danger Zone, Chase the Lights and Thoughtshot. Each game provides different tests of your ability to control the ball flying though a series of obstacles. You may design your own obstacle courses to challenge yourself or your friends.
With Christmas just around the corner, this Mindflex will be a unique and fun Christmas present for your loved ones or yourself to realize your childhood dream. Here are some tips and tricks to control the ball:-
Raising the ball:
Stare at the ball and concentrate all of your attention on it.
Picture the ball rising to the exact spot you want.
Relax your face
Lowering the ball:
Relax your body and clear your mind. You may think about sleeping or relaxing place.
Take deep breaths.
Close your eyes for a moment.
Mindflex is available at Amazon.com (aff)
and other online retailers at about $80.