Still remember a website that becomes an overnight sensation and flooding Twitter, Instagram, and Facebook by guessing age? How-Old.net has become Internet craze by allows users to upload photo and then the program will guess users age and gender. And now Microsoft is bringing the utility to Windows Phone users with the launch of the mobile app – Microsoft How-Old.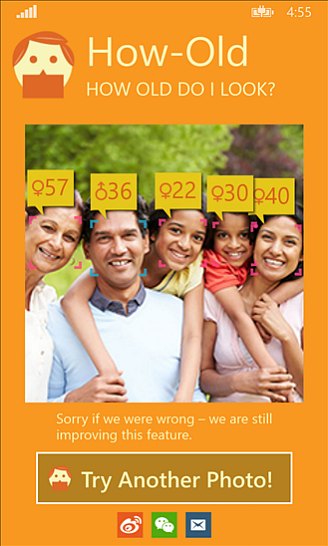 The app is works similar functionality as the online website, with users just need to capture photo from phone camera or upload photo from phone library to the How-Old app. The app will guess the age and gender of every person it can spot in the picture. From there, you can share the results in an email, or social networks such as Weibo and WeChat. Unfortunately, some users still discover the app to be surprisingly inaccurate and even laughable.
In spite of the fact that How-Old app is far from perfect, but it is still a fun little app to try out to see how far the app guess and recognize your age and gender.
To get started, Windows Phone users just need to download the app from Windows Phone App Store for free. Once downloaded Microsoft How-Old app, simply launch the app and authorize access to phone camera and photos. And then, select "Add a Photo" to bring up the option to either "Take a selfie" or choose from photos library.
Download Microsoft How-Old App from Windows Phone Store here
For more details here
You can share or follow us on Twitter, add us to your circle on Google+ or like our Facebook page to keep yourself updated on all the latest info from Microsoft, Google, Apple and the Web.