Mercury Browser by iLegendsoft Inc. made its fame through iOS platform, where it's available first on iOS device. Mercury Browser is one of the most popular browsers for Apple's Safari on iOS. Finally it has been row out for Android platform. The browser was comes with all the options that made it a hit on iOS, such as plugins support, gesture controls, user agent switching and etc. As excellent as Mercury, it has been represent a fast and elegant performance in Android with some nice features to let you enjoy surfing the Web.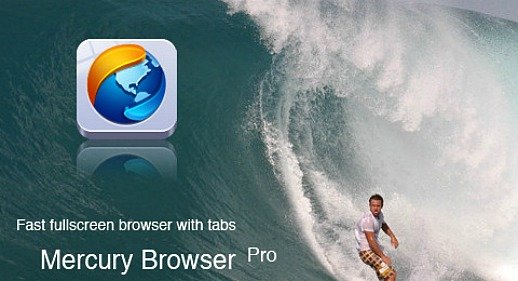 There are some features have slightly a bit different with Google Chrome or others Browser. The build in reader is one of the features or function that slightly advanced over Chrome for Android. The links opened within the reader can be shared with others. You may set the font size base on your liking. Enable the Private mode will stop Mercury from recording your browsing history and cookies, and also just simply clear the history and cookies with one-tap to prevent you from being spied personal privacy.
The setting tab includes the font size, brightness, independent rotation lock and day or night mode switch. With the night mode on, the entire interface on the page will inverts all bright white accents to a dark grey while dropping the brightness a bit as well to comfort our vision. To avoid or prevent others user viewing your Mercury browser, it have develop a Privacy options which can set a passcode to prevent unauthorized access.
Mercury Browser welcomed all over the world and has accumulated millions of users now. Mercury Browser is free and worth to get a try on its.
Mercury Browser for iOS platform: https://itunes.apple.com/ca/app/mercury-browser-best-chrome/id331012646?mt=8
Mercury Browser for Android platform: https://play.google.com/store/apps/details?id=com.ilegendsoft.mercury&hl=en