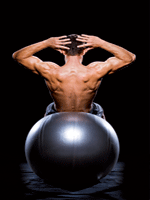 Want to exercise and workout on the go? Or can't leave behind your iPod while work out in gym? Men's Health has published several Workouts to Go series of videos and slide shows for iPod or other MP3 player that allows gym goers to bring them along to the gym, or any other place that you want to build up your body. Best of all, the workouts is available for free download.

There are currently 4 type of workouts that available for download as listed below:
Workouts to Go: The At-Home Muscle Plan
Sculpt your body at home by building muscle and slashing fat with this innovative, 8-move routine that fits even the busiest schedule
Workouts to Go: The Marine Corps Workout
What the military has learned about combat-ready fitness can help you build the strong, powerful body you've always wanted. Here's their plan for packing on muscle
Workouts to Go: Pack On Muscle Like a Pro
Fuel your own muscle gains with the workout that packed 36 pounds of pure muscle on two young NBA stars in just one off-season
Workouts to Go: The Ultimate Strength-Boosting Workout
This total-body athlete's workout from performance trainer Robert Dos Remedios, M.A., C.S.C.S., helps you train like a pro and burn fat while building functional strength.
The Workout to Go series downloads is available at http://www.menshealth.com/download/. To download any of all of the workouts to your iPod, downloader must register as a member of Men's Health discussion boards or the NEW Transform '07 Summer Edition, which is free. After downloading, import the workouts into iTunes to transfer to your iPod.