Looking at a "special warm" gift for your beloved mother in coming Mother's Day? One of the most trusted and recognized consumer brands in modern marketing history, Memorex has concerned of your needs with the launch of its latest fashionable digital photo frames – Special Occasions (MDF0712-C) and Floral (MDF0722-WLDB), featuring a same 7-inch widescreen LCD display with resolution of 480×234, aiming at mother's Day gift giving.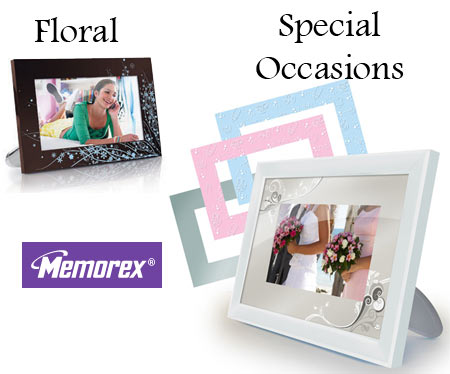 "Digital picture frames are becoming so popular in the home and as gift items," said Carla Pihowich, Memorex brand manager, Imation Corp. "Memorex has designed these frames to be a cut above the ordinary design, with feminine graphics that will delight the mom in everyone's life. As an added treat for Mother's Day, try preloading a frame with family photos before wrapping it up as a gift."
According to the company, the new Memorex Special Occasions digital photo frame will feature a high-gloss, white finish, plus four interchangeable inserts – one with a silver metallic finish and three with wedding, baby boy and baby girl motifs. For convenient, photos can be easily view via built-in USB port and 2-in-1 memory card (SD & MMC) slot.
In addition, the Memorex Floral digital photo frame will incorporate an elegant blue silkscreen floral design on a sleek brown frame, along with mini USB port and 4-in-1 memory card slot.
The latest Memorex Special Occasions and Floral will hit K-Mart stores in coming May for the same SRP of $89.99.